The 14 Best Healthy Cookbooks, According to Dietitians
Blau Medical News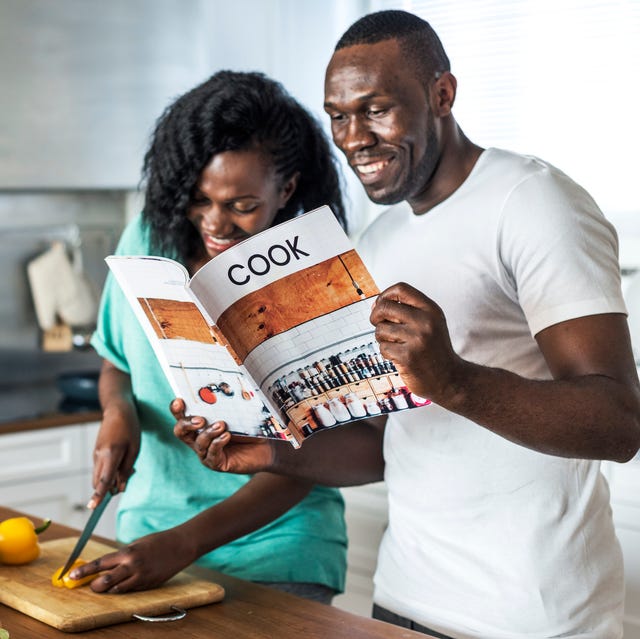 Rawpixel
We love going into the kitchens, looking in the fridge and pantry, and figuring out what's for dinner. Or lunch. Or breakfast. Or breakfast for lunch.
Cooking is one of the few skills that leads to near-instant gratification. The only problem is that sometimes there's too much inspiration and instead of actually making dinner we're reading about making dinner and reading does not a hungry belly feed.
These days, there are too many cookbooks, too many recipes, and too many decisions to make. It's the paralysis of choice, applied to mealtime. It's enough to make you want to throw in the kitchen towel.
So we turned to some of our best friends in the nutrition business to give us their recommendations for the healthy cookbooks they turn to most often when they need a meal. The picks that they delivered—along with a few of our tried-and-true tomes—all absolute go-tos for meals that are not only nutritious, but also delicious. (With cookbooks, you often only get one or the other.)
There's another benefit to the healthy cookbooks that follow too: the recipes inside them are simple. Too many fussy, chef-upped cookbooks only promise healthy recipes—and then you find out through convoluted procedures and esoteric ingredients that there's a catch: They're good healthy recipes if you have time to cook all day.
Add these books to your collection. Streamline your approach. Feed yourself good food faster.
1 of 14
The Healthy Instant Pot Cookbook
I'll start with my own recommendation. Admittedly, I was late the Instant Pot game, but after near-daily texts highlighting all the amazing recipes my friend was making I broke down and bought one. I also also bought this book, gratefully. It's full of amazing, easy, adult- and kid-friendly recipes that helps my family put a quality dinner on the table without much effort.
—Recommend by Chris Mohr
2 of 14
Prep: The Essential College Cookbook
This book is not only good for college students—it's a great primer for any beginner. It covers the basics like pantry essentials and instructions on how to safely cut an avocado, as well as easy but elevated recipes like Pesto Quinoa and Thai-Style Coconut Curry Noodle Soup. 
While the book's focus is on healthy foods, Morford also works in some comfort classics like Chocolate Chip Cookies and Pasta with Butter, Egg, and Cheese—the idea being that making these foods at home is still better for you than going out for them.

—Recommended by Ellie Krieger, M.S., R.D.

3 of 14
Meals That Heal
There's some really informative, but easy-to-understand information in there about eating to tamp down inflammation—for gut health, brain health, heart health, and cancer prevention. She breaks it down the nutrition in actionable advice. Her recipes are always delicious. Always! And the photography in this cookbook is really fantastic.
—Recommended by Brierley Horton, M.S., R.D.
4 of 14
The 30-Minute Mediterranean Diet Cookbook
Built on a foundation of fresh vegetables, whole grains, and seafood, the centuries-old Mediterranean diet is one of the most tasty and research-backed ways to eat healthfully. 
One of the things I like most about the Mediterranean diet is that it's not a 'diet' you go on and off of, but rather a lifelong guide to enjoying nutritious foods. Serena Ball makes it easier than ever to embrace a Mediterranean diet by offering time-saving tricks and simple, delicious recipes for super-busy people.
—Recommended by Patricia Bannan, M.S., R.D. 
5 of 14
Sababa: Fresh, Sunny Flavors From My Israeli Kitchen
This cookbook is a condiment-lover's dream, with so many different flavors and textures and colors to enhance anything from a more elaborate dish to a simple slice of bread. But my very favorite reason I fell in love with this book is that it contains so many meals in which vegetables and fruit are the stars of the show, yet doesn't mention health or dieting once. 
Adeena brings an important ingredient into each recipe—joy. Without telling readers they need to eat her dishes because "they're good for you," Sussman manages to create page after page of compelling (and delicious!) reasons to eat your fruits and vegetables.
—Recommended by Willow Jarosh, M.S., R.D.
6 of 14
Whole in One
T.V. personality and registered dietitian Ellie Krieger has just released her latest cookbook. The always fabulous Krieger show how healthy meals don't have to be overly time-consuming or made from obscure ingredients. 
I love how the recipes are organized: plant protein, eggs, and dairy all in one chapter, followed by seafood, poultry, meat, and desserts. My favorite recipes include Spice-Rubbed Salmon with Ginger Carrots and Green Beans and Maple Bourbon Dark Chocolate Fondue. This cookbook is the perfect way to achieve a healthy diet without feeing deprived.
—Recommended by Dana White, M.S., R.D.N.

7 of 14
Salad Samurai
This is my go-to cookbook for stepping up my salad game. From main-dish grain salads to breakfast bowls, these plant-based recipes are super versatile and easy to make. Plus, the cookbook itself is gorgeous!
—Recommended by Danielle Omar, M.S., R.D.
8 of 14
Red, White, and 'Que
If you enjoy grilling but also like eating vegetables, this is the cookbook for you. The recipes are innovative and help you break out of a grilling rut, but still doable. They also include a variety of produce to compliment the main meat or, are the main event. It's perfect for situations when a meat-eater and veggie-lover have to coexist peacefully at a dinner party, or any night of the week.
—Recommended by Jenna Braddock, M.S.H., R.D.
9 of 14
The With or Without Meat Cookbook
Why I love this book: Sometimes you feel like meat, sometimes you don't. As a flexitarian eater, and the author of The Flexitarian Diet, I'm always looking for cookbooks like this that offer a balance of meat and meatless meals. Even though this book is marketed toward people with diabetes, it is packed with delicious recipes for everyone.
—Recommended by Dawn Jackson Blatner, R.D.N.
10 of 14
The Low-FODMAP Diet Step by Step
This book offers a concise overview of the low-fodmap diet (used by people with a sensitive gut or IBS), how to implement it, and who might benefit. The book includes 130 simple, tasty recipes including Huevos Rancheros, Lemon Ginger Scones, Teriyaki Meatballs, Shrimp & Broccoli Stri-Fry, and Peanut Noodles. Even though I'm not following a low-fodmap diet I still enjoy the recipes!
—Recommended by Janice Newell Bissex, M.S., R.D.N.
11 of 14
Jamies 15-Minute Meals
Sure, Jamie is a little lax with how he defines "15 Minutes," but all the prep and dishes serve a higher purpose. Although my wife may begrudge the work involved in the Blackened Chicken San Fran Quinoa Salad, we'll both relish the results (and leftovers). Maybe the Chorizo Carbonara Catalan Market Salad doesn't need the homemade sherry vinegar dressing, but it's always gone come dinnertime. And, okay, many of the recipes involve either a blender or a food processor, but how else are we going to enjoy those Black Bean Beef Burgers with Noodles & Pickle Salad, huh?
—Recommended by Paul Kita
12 of 14
Half Baked Harvest Super Simple
This one's a recent favorite in my house (which is a house stuffed with cookbooks, mind you). You can credit the Everything Bagel Salad recipe, which takes torn everything bagels, toasts them until crouton-zed, and then scatters those crunch nuggets of tasty glory atop a bed of greens.
There are also mushroom-based steak sandwiches, and halloumi and poblano tacos, and so many other amazing, simple, delicious meals but EVERYTHING BAGEL SALAD.
—Recommended by Paul Kita
13 of 14
The Indian Family Kitchen
Anjali Pathak is a dedicated home cook, informed by the lessons she learned within a family of dedicated home cooks. Yet her approach to Indian flavors feels modern and, at times, totally wild.
Her recipe for Blazing Burgers comes with a beet, horseradish, and yogurt slaw that tempers the burn of red chiles mixed into the beef patties. Her Drunken Chicken roasts atop a mixture of beer, ginger, and coriander seeds. Her Slow-Cooked Tamarind-Glazed Pork with pomegranate seeds and chipotle paste is a feat of contrasting yet somehow complementary flavors.
The book includes dhals and kebabs and tikis, too, each with their own twists. Every recipe is an adventure into technique and flavor not for the sake of the chef, but for the enjoyment of the executor.
—Recommended by Paul Kita
14 of 14
New American Table
Marcus Samuelsson, chef of Red Rooster and Ginny's Supper Club, has always has a distinct way of bringing fresh flavors to dishes in powerful new ways. This cookbook is a great introduction to his style. Two favorites: his miso-rubbed rack of lamb, which is a show-stopper, and his chorizo breakfast burritos, which are a hunger-stopper.
—Recommended by Paul Kita